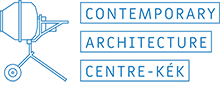 KÉK – HUNGARIAN CONTEMPORARY ARCHITECTURE CENTRE
KÉK – Hungarian Contemporary Architecture Centre is an independent architectural cultural institution founded and operated by young architects, planners, architecture historians, artists, journalists, sociologists and civil activists. The mission of KÉK is to bring closer the current questions of architecture and urbanism to the general public, and to make visible for them the invisible processes of urban development. Since its establishment in 2006, KÉK has been active in opening new perspectives in the public discourse about architecture and urban development both at a local and a regional scale. In recent years, KÉK has been involved in various urban regeneration programmes, acting as a mediator between the civil sphere, the cultural sector, creative industries, municipal officers and decision-makers.
The initiatives of KÉK include exhibitions, conferences, debates, workshops, architecture tours, and festivals as well as advocacy campaigns and investigative research. The organization participates in the preparation of Hungarian materials for international architecture databases and in the national professional education as well.
Between 2009 and 2015, KÉK was without a permanent location while permanently carrying out programmes at various sites with great enthusiasm. In 2015, the new offices of KÉK were found on Bartók Béla út.
MORE INFORMATION
+36 30 522 5994